"Mon Dico" means My Dict in French. It is an easy use software for creating and consulting dictionaries.
With MonDico create your own dictionary, with the possibility to associate a PDF, a picture and/or a sound. You can insert HTML code in your definition for a neat layout and add links that will also open in the software or in your browser. It is also very easy to move around and find a definition thanks to its search functions.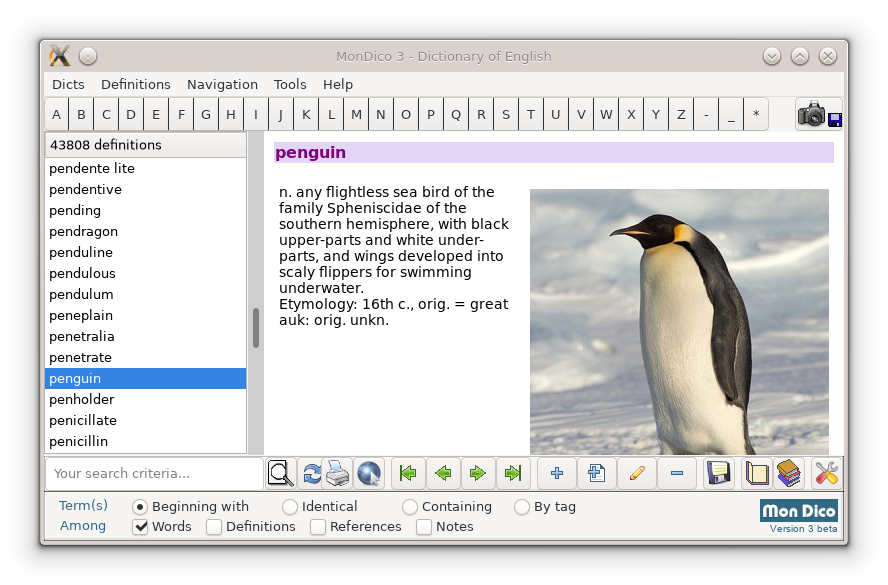 Each dictionary is encrypted and only MonDico can open them. It is also possible to lock the opening of a dictionary with a password.
This program meets a very large number of needs. From a simple memento to keep track of your passwords and personal information, to a professional lexicon or the complete creation of a dictionary.
With MonDico 3 create a dictionary or modify the compatible dicts that allow it:
Create your own dictionary with ease!
Add up to tens of thousands of definitions including links to external resources
Make neat presentations (the text editor is HTML compatible)
Modify, duplicate, delete the definitions as you wish
Add references
Add your personal notes
Illustrate your definition with a picture
Add a sound document
Attach a PDF document
Print a definition from your browser
Import a word list, a dictionary in text or csv format into an existing dictionary
Export your dictionary in csv format
Copy/paste all or part of a definition
Download dicts from a vast collection that only needs to be expanded by your contributions
Easily choose the dictionary you want to consult from all the dicos you have installed
Navigate easily through definitions (browsing history, favorites)
Automatically open your favorite dictionary by default
Easily find a definition, a keyword without being a database expert
And why not, share or sell your dictionary on our site
Go even further by using the built-in HyperLink mode, automatic backup, password protection...
MonDico Reader and MonDico are 64-bit applications that work on Linux, Windows (7, 8.X and 10) and Mac OS X intel-based (from 10.10.5 and up).

• MonDico Reader: the freeware version for reading every dictionary created with Mon Dico 3. You can freely distribute it.

• MonDico3 the full version with all functions above :-)